Description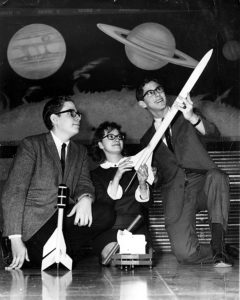 The NAR is celebrating its 60th anniversary by holding a special Rocketeer Reunion event on Saturday, August 4, from 5 PM to 10PM at the NARAM-60 host hotel.  This Reunion is not just for those who were part of the NAR's early years to get together and exchange reminiscences, it is also an opportunity for today's rocketeers to meet and hear those stories from people whom they may only know only from books, articles, and tribal legends.  There is no NAR number cutoff for this reunion – everyone is welcome, because we want the current NAR generation to meet the NAR's first generation.  If you have contact with others who were part of the NAR's early years, but may not be in the NAR today, please urge them to come to Pueblo and be part of this!
The evening will be a stand-up reception with heavy hors d'oeuvres, a cash bar, and lots of socializing.  Halfway through the evening of socializing there will be a few presentations and remarks, including an update by Geoff Nunn, the Museum of Flight's Adjunct Curator of Space History.  Geoff will speak  on the massive professional archiving project now underway (thanks to NAR member donations) at this famous Seattle museum as they assimilate and fully catalog the huge G. Harry Stine collection and the Estes and Piester collections that have been donated to them in the past several years.
Vern and Gleda Estes, Lee and Betty Piester, Bill and Lisa Stine , and Jay Apt will be at the Reunion, so should you!  You do not have to register for NARAM to be part of the Reunion.  The registration cost of $50 covers the cost of the food and facility.  Junior NAR members will be admitted free with their NAR card.